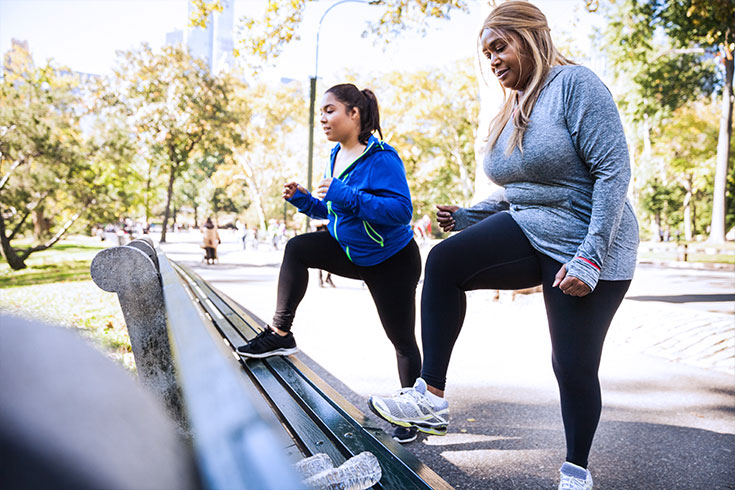 By Ellie DeGarmo, B.A., Junior Policy Associate and Diane Kolack, B.A., Policy Associate
We tuned into a daylong Roundtable on Obesity Solutions Workshop
In an effort to address obesity by exploring potential mechanisms for changing the built environment, the National Academies of Sciences, Engineering, and Medicine (the National Academies) hosted Advancing Obesity Solutions through Investments in the Built Environment: A Workshop on September 12, 2017. The daylong event was a part of the National Academies' Roundtable on Obesity Solutions, which began in 2014 with the mission of coordinating efforts across sectors to address the obesity epidemic.
The event was broken up into the following three topical sections:
Built Environments, Obesity and Health Overview

Rodrigo Reis from Washington University in St. Louis spoke about the importance of cross-sector collaboration in creating policies for healthier built environments. Through computer modeling, his multi-disciplinary team identified eight integrated regional and local interventions that, when combined, encourage walking, cycling, and public transit use, while reducing private motor vehicle use. Reis also suggested that in order to maximize cross-sector engagement, messaging should be crafted effectively. Research shows that this means shifting the conversation from a focus on health to a focus on the sector specific co-benefits (e.g. environmental sustainability and improved safety) that result from changes to the built environment.
Karen Glanz of the University of Pennsylvania began by telling the well-known parable of the Blind Men and the Elephant in which each man feels a different part of the elephant, and confidently arrives at a completely different conclusion about the definition of an elephant. Glanz used this analogy to illustrate the limitations of some recent research on obesity and food environments. She cautions that when interventions that focus on just one piece of the puzzle (or the elephant) fail, we need to ask why and consider the bigger picture.
Daniel Rodríguez from the University of California, Berkeley emphasized the ways that city planners can improve the built environment through transportation elements and land use policies that benefit the 53 percent of our country's population living in suburban environments.
Progress in Improving Built Environments – Examples from Communities and Cities

Michelle Nance of the Centralina Council of Governments had the goal of making places more walkable. She conducted "walkability audits," and discovered that a crucial element was increasing safety through simple and understandable measures like expanding sidewalk lighting.
Leslie Meehan from the Tennessee Department of Health cited the example of the Middle Tennessee Transportation and Health Study to demonstrate that data collection is an effective way for the transportation and health sectors to work together. In this case, each sector took responsibility for a distinct part of the process: the transportation department funded the study, while public health professionals executed it.
Cathy Costakis of Montana State University explained how community reluctance can be a barrier to implementing changes in the built environment. She offered an effective way of mitigating this through temporary modifications (referred to as "pop-up interventions"), allowing residents to "test" measures before permanent changes are made, including temporary road signs and crosswalks, a roundabout made with hay bales, and mini recreational spaces called parklets.
Challenging and Promising Strategies for Achieving Equitably Healthy Environments

KaBOOM! CEO James Siegal discussed how his organization builds playgrounds to increase an area's "playability," an idea that can be thought of as "the extent to which a city makes it easy for all kids to get balance and active play." KaBOOM! focuses on health equity by prioritizing their work in the neighborhoods that need it most.
Kimi Watkins-Tartt from the Alameda County Public Health Department shared three health-related projects that her department carried out. She attributed the success of each initiative to the county's broad approach that included policy and systems change, institutional change, and partnerships and community collaboration. The projects included writing a community health and wellness plan, creating healthy and equitable development guidelines, and implementing tobacco and food-related changes in retail environments.
Sara Hammerschmidt from the Urban Land Institute (ULI) talked about the work her organization does through providing real estate developers with expertise on using land responsibly and sustainably. For example, ULI lent support to construct Arbor House in the Bronx, New York, a building with 124 units of affordable housing. Arbor House is located in a neighborhood where residents suffer from disproportionately high rates of chronic disease. The development includes a hydroponic rooftop farm for residents with 40 percent of the produce designated for school, hospital, and food market programs. Arbor House's design also promotes physical activity, from fitness areas located inside and outside the building to prominently placed stairwells.
Finally, Shai Lauros, a developer from Local Initiatives Support Coalition (LISC) National discussed the ways in which her organization supports local initiatives by involving local leaders and residents, facilitating cross-sector partnerships, and addressing the physical, social, and economic needs in a community.
The rate of obesity in New York State (NYS) is 25.5 percent. Even though this is more than 10 percent below the national average, addressing obesity is a top priority, and we strongly encourage communities across the state to consider the importance of the built environment in their work to reduce obesity and chronic diseases.
In the second and final part of our series on health and the built environment, we will highlight innovative approaches from communities throughout NYS.