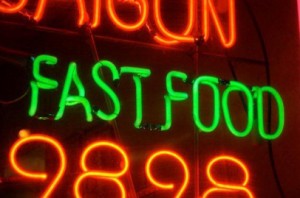 Originally published in The DASH-NY Newsletter September 2012
by Perrin Braun
The relationship between obesity and access to healthy foods has been complicated by recent studies that suggested food deserts are not an issue. The term "food desert" has been used by the media, economists, and policy-makers to describe communities that have limited access to healthy food outlets. The communities plagued by food deserts are often of color and typically low income. Many policy decisions and interventions—including Michelle Obama's Let's Move! campaign—have operated under the premise that addressing food deserts can help curb obesity in these communities. Enhancing the availability of healthy foods is now a national priority, but are we missing the mark if we are not simultaneously addressing the overabundance of unhealthy food in many of these communities?
The USDA currently defines a "food desert" as a "low-income census tract where a substantial number or share of residents has low access to a supermarket or large grocery store." One of the initial proposals to address the problem of food deserts was to add more food retail options to these neighborhoods. However, simply increasing the number of grocery stores in under-served communities is not a universal solution to decreasing the prevalence of hunger and chronic disease.
John Weidman, the Deputy Executive Director of Food Trust, argued in a recent New York Timesarticle that "not all grocery stores are equal," meaning that every supermarket doesn't necessarily stock fresh, affordable, and appealing produce. In fact, a 2006 study in the American Journal of Preventative Medicine found that the quality of the grocery stores in low-income neighborhoods may influence the BMI of residents. These studies give increasing credence to the idea that issues related to access need to be considered in conjunction with quality, pervasiveness of competing foods, and affordability as barriers to creating healthy eating behaviors.
In fact, current research has suggested that although some areas designated as food deserts may contain some healthy food options, they are so flooded with energy-dense, low-cost options that it undermines efforts to make healthy choices. Donald Rose and his colleagues were the first to name this concept "food swamps" in their 2009 study, Deserts in New Orleans? Illustrations of Urban Food Access and Implications for Policy. Several researchers propose that the focus on the food environment in these communities needs to be shifted from what they lack to draining the food swamps of what they have in abundance—namely, high-calorie foods that fuel obesity.
Does the "food swamp" vs. "food desert" debate address the complex economic and health needs of low-income neighborhoods? There is a substantial body of evidence demonstrating the existence of food deserts. At the same time, the latest observation is that low-income neighborhoods contain an overabundance of fast food establishments. So, it appears that food swamps and food deserts are not necessarily mutually exclusive. For example, one can live in a county with no grocery stores for miles around, butplenty of fast food or quick service establishments nearby.
Therefore, it is important to consider both ease of access and lack of access when considering the main drivers of food choice in underserved neighborhoods. A 2009 USDA report notes that access to a supermarket or large grocery store is a problem for only a small percentage of U.S. households. It shows that while 23.5 million people live in areas more than one mile from a supermarket or large grocery store, only 11.5 million of them (or 4.1 percent of the U.S. population) are actually low-income. It has also been argued that you would be hard-pressed to find an urban community that has absolutely no access to fruits and vegetables, but what matters most is how much fresh produce costs in relation to energy-dense fast food options.
Food advertising is also a part of the problem, but determining its true impact will require further assessment. A 2010 study from the Rudd Center demonstrated that fast food marketers have been targeting children across a variety of media and in select restaurants that provide mostly unhealthy side dishes and drinks with kids' meals. It also noted that children as young as two are viewing more advertisements for fast food than ever before.
So, what does this mean for the "food swamp" vs. "food desert" debate? Increasing access to healthy foods is part of the solution, but it is not a panacea. While it's necessary to make affordable, nutritious, and appealing food options more readily available, it's also important to work towards decreasing the prevalence of unhealthy foods. The healthy choice needs to be the easiest choice!