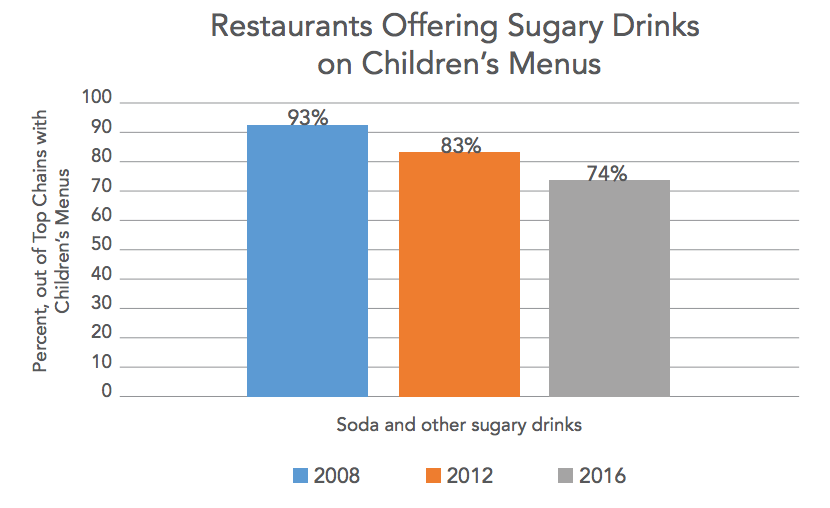 By Ellie DeGarmo, B.A., Junior Policy Associate
Research reveals that children's chain restaurant meals have gotten healthier. More specifically, children's menu items are less likely to offer sugary drinks and more likely to offer low-fat milk now than they did four years ago. The Center for Science in the Public Interest (CSPI) recently released a report examining 38 of the country's largest restaurant chains like McDonald's, Chipotle Mexican Grill, and Panda Express. The image accompanying this post is a figure from this report and can be found on page two.
Researchers explored beverage options found on the children's menus at these restaurants and grouped each drink into five categories: sugary drinks, high-fat milk, low-fat milk, juice, and bottled water/seltzer. Findings related to two of these groups were significant. First, sugary drinks, like soda and sports drinks, were offered by 74 percent of restaurant's children's menus, a drop from 83 percent in 2012. Second, low-fat milk, characterized by being fat free or 1 percent, was offered by 69 percent, a sharp increase from 40 percent in 2012.
Information about drink options in restaurants is increasingly important as Americans are eating out more now than ever before. According to CSPI, over half (50.1 percent) of the money used for food is spent at venues away from the home, like restaurants and cafeterias. This is nearly double the 1970 rate of 26 percent.
As sugary drinks continue to be a part of children's meals at restaurants, kids remain at a greater risk for developing health issues like obesity, type 2 diabetes, and dental disease. Although trending in the right direction, additional restaurants need to trade unhealthy drinks for healthier ones in order to minimize rates of childhood obesity and prevent the onset of associated chronic health conditions.
The 26 percent of restaurants that do not offer sugary drinks comprise nine restaurants that decided to remove these kinds of beverages from their children's menus. While complete elimination of sugary drinks is ideal, CSPI offers alternative measures that can be taken. The report's three recommendations involve making healthy beverage options the default, ensuring that nutrition guidelines are met, and restricting advertising to feature children's meals that are healthy.
Setting healthy options as the default in children's menus is an action that is overwhelmingly supported by New York City residents. A recent poll by the American Heart Association found that "87% of New Yorkers agree: restaurants should make healthy drinks the default option on kids' menus."
This sentiment is also reflected in the goals of the New York State (NYS) Prevention Agenda (NYSPA), which calls upon state and local actors to "create community environments that promote and support healthy food and beverage choice and physical activity."
As a part of the Academy's commitment to the NYSPA, our Advancing Prevention Project and Designing a Strong and Healthy New York project teams support the NYS recommendations and strongly encourage restaurants to either remove sugary drinks from their children's menus or implement CSPI's suggestions.
Beyond this, there is opportunity for action in the legislative arena as well. The Academy recommends amending and passing Introduction 442 to promote children's health by ensuring that healthy drinks are the default option in kids' meals in every New York City restaurant. Permissible beverages to be sold with a children's meal include (1) water, sparkling water, or flavored water, with no added natural or artificial sweeteners; (2) milk or non-dairy milk alternatives; and (3) 100% juice. This bill was introduced to by Council Member Ben Kallos (D-Manhattan) to The New York City Council in 2014, yet it remains undecided.
Most recently, the bill, which has 16 co-sponsors, was discussed in a committee hearing in January of 2016. Introduction 442 was laid over in committee at this hearing, and has not been revisited since. The Academy urges New York City Council Members to use the momentum generated from CSPI's recent, promising findings to move forward with this legislation. We must hold our local lawmakers accountable to ensure that they take this crucial step towards making children's meals healthier, ultimately reducing both the rate of childhood obesity as well as the risk of developing chronic conditions like type 2 diabetes and heart disease.