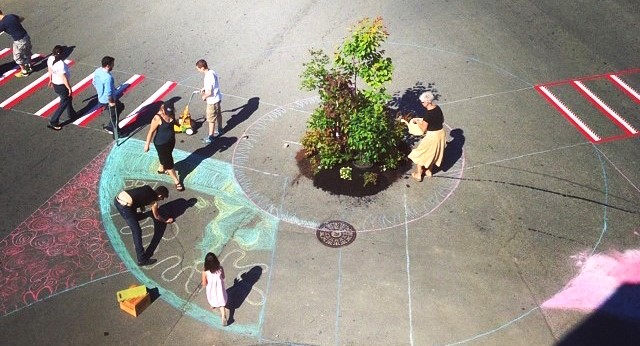 Photo credit: Buffalo Rising and the Five Points Buffalo NY neighborhood
By Diane Kolack, Policy Associate
This is the second of two posts on health and the built environment. Part one focused on a recent workshop on built environment solutions to obesity, sponsored by the National Academy of Sciences.
We often hear that your zip code is a better predictor of your health than your genetic code. Although this refers broadly to health inequity, the health-promoting quality of a zip code is impacted by the built and social environments. Inaccessible or nonexistent sidewalks and bicycle or walking paths contribute to sedentary behavior, which is a factor in poor health outcomes such as obesity, cardiovascular disease, diabetes, and some types of cancer, according to the CDC. Policies like New York State's Complete Streets law help frame 'the healthy choice as the easy choice' by making it possible for people to safely walk, bike and be physically active in their communities. While these policies offer an opportunity to improve streetscapes and encourage physical activity, there can be time and cost barriers to implementation.
Tactical Urbanism is one solution. The concept comes from the field of urban planning and refers to "lighter, quicker, cheaper" improvements to the built environment. According to the Center for Active Design, when barriers are seemingly high, tactical urbanism approaches can offer affordable, rapid-fire solutions and change the way people think about their streets and public spaces. The Walkable and Livable Communities Institute has created a Pop-Up Intervention Toolkit that provides step by step instructions for local groups interested in tactical urbanism.
The workshop we covered in this first part of this series, Advancing Obesity Solutions Though Investments in the Built Environment, organized by the National Academy of Sciences, brought our attention to the success of "pop-up" interventions in rural Montana, including a roundabout made of hay bales to test out new traffic patterns.  Several communities in New York State are working to improve the quality of the built environment with similarly innovative approaches.
New York State's Health Across All Policies initiative acknowledges that to improve the health of all communities, cross-sector cooperation is necessary. Making lasting change to the built environment requires civic engagement and multi-disciplinary policy approaches. During a recent workshop on built environment solutions to obesity, Rodrigo Reis of Washington University emphasized the importance of cross-sector collaboration in creating policies for healthier built environments through his work in modeling multi-disciplinary approaches to active transportation.
The Advancing Prevention Project (APP) is proud to promote Complete Streets policy initiatives as part of our ongoing support to local health departments' Prevention Agenda plans and our advocacy for active communities around New York State. To participate in the upcoming technical assistance for Complete Streets, please contact Diane Kolack at the New York Academy of Medicine.