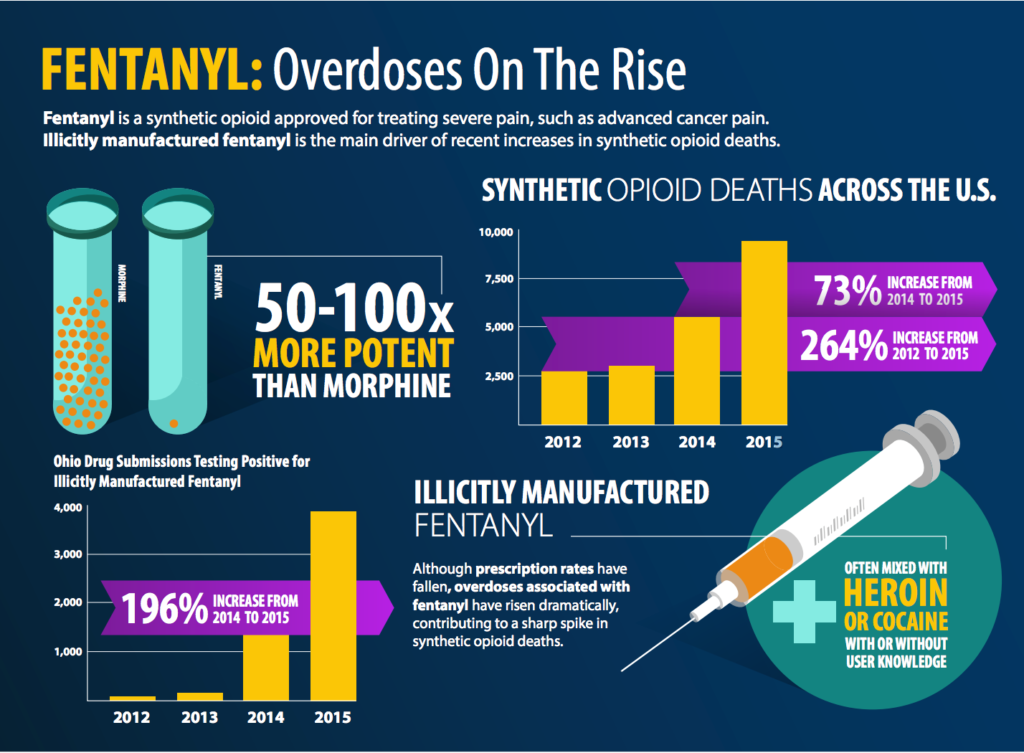 Image credit: PBSS issue brief, page 2
By Ellie DeGarmo, B.A., Junior Policy Associate
Opioid overdose deaths are on the rise in the United States, with over 52,400 in 2015 and recent estimates indicating that 2016 saw the steepest annual increase to date, and reaching a record annual death count of over 59,000. There are many different kinds of opioid drugs and new research reveals that there are certain types that have led to sharp increases in overdose deaths. A recently released Prescription Behavior Surveillance System (PBSS) issue brief reports that overdose deaths specifically involving a narcotic called fentanyl have increased significantly. The infographic accompanying this post is an image from this issue brief and can be found on page two.
Fentanyl can be manufactured and prescribed legally, but can also be produced illicitly and sold illegally as heroin or combined with heroin. The PBSS brief analyzes data from five states (Maine, Ohio, Virginia, Washington, and West Virginia) and explores how trends in fentanyl related deaths compare to trends in legally prescribed fentanyl. Four out of the five states demonstrated their greatest number of fentanyl overdoses in 2015 (the final year in the study's 2010 to 2015 timeframe), yet prescribed fentanyl rates remained stable or had fallen during this time.
This means that the increase in fentanyl overdoses can be attributed to an increase in illicitly manufactured fentanyl (IMF). The PBSS issue brief insists that this reality "highlights the need for close collaboration between public health and public safety in order to optimize the response to the ongoing opioid overdose epidemic."
To this end, the PBSS brief concludes with two main recommendations. One concerns improving surveillance of fentanyl outbreaks, while the other calls for expanding access to naloxone, an antidote that counteracts the effects of opioids, and ultimately prevents overdose deaths. The recommendations offer guidelines for health care providers and harm reduction organizations that are specific to their capacity and expertise. For example, they suggest that health care providers supply more naloxone to first responders like EMS personnel, while they encourage harm reduction organizations to make available take-home naloxone kits.
The New York State (NYS) Prevention Agenda (NYSPA), on the other hand, did not mention naloxone in its original version that was published in 2013. Since then, however, naloxone has found its way into the language of updated NYSPA publications. Most notably, in December of 2015, the NYS Department of Health released an Action Plan Re-Fresh Chart, incorporating recent information generated from their Update Survey. On page 22 of this document, "harm reduction including Naloxone training" is listed as one of the eight recommended interventions for overdose prevention.
The Academy commends the NYSPA's addition of naloxone and encourages stakeholders to consult the PBSS brief's recommendations for more detailed guidelines about how to implement this crucial safeguard against overdose deaths.
Perhaps the most promising solution for combatting the opioid epidemic, however, is through the implementation of supervised injection facilities (SIFs), legally safe spaces in which users can inject drugs with medical supervision. A previous Promoting Prevention blog post discusses, in detail, the controversial measure that exists in over 60 cities in ten countries, curbing the epidemic and preventing overdose deaths. In fact, over the course of 30 years and millions of injections in SIFs around the world, not a single overdose death has occurred in a SIF.
Despite this proven success, mention of SIFs is completely absent from both the original and recent updates to the NYSPA. This is probably because there are no SIFs in NYS. New York City, along with Seattle, San Francisco, Baltimore, Ithaca, NY and other municipalities are examining the issues surrounding implementation of this strategy. In New York City, the Academy is currently engaged in research aimed at advancing SIF implementation in New York. The ongoing SIF Feasibility Study is gathering opinions from local stakeholders – people who use drugs, health care providers, the faith and business communities, law enforcement – on the topics of drug use and SIFs, in order to better understand and maximize the benefits of establishing SIFs in NYS.
In addition to this, the Academy joins over 30 organizations and over 100 health care professionals in support of the SIF NYC coalition, a coordinated effort to advocate for SIF implementation. Spurred into action by a letter of support signed by the 100 health care professionals, bill A. 8534, which would authorize the implementation of SIFs in NYS, was introduced to the New York State Senate by Assemblymember Linda B. Rosenthal (D – Manhattan).
Continued strong support for SIFs is needed to ensure that this crucial bill becomes law. New York has an incredible opportunity to become the first state in the country to authorize SIFs. Hopefully, this would encourage other states to follow, so that overdoses can be prevented and lives can be saved nationwide.